Operational Updates
Reopening for in-person browsing: JUNE 6
store hours: 12pm to 6pm everyday
We are still accepting online orders, as well as care package orders at this link.
New Customer Guidelines:
No Mask, No Entry. If you don't have a mask, knock on the door and a staff member will bring you one that you can keep.
Browse with intention. Don't touch every book in the store if you don't have to.
In order to ensure touchless checkout, we are not accepting cash at this time.
Only 7 customers are allowed in the store at one time.
No pets at this time.
Children need to be vigorously supervised; they cannot leave your side while you are browsing.
All seating areas are closed.
Our tea service is currently suspended, but you can still buy the tea leaves to make at home.
Kidnapped by the Pirate (Paperback)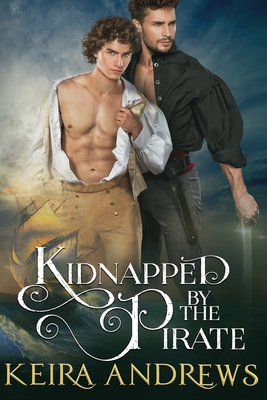 $12.99
Usually Ships in 1-5 Days
Description
---
Will a virgin captive surrender to this pirate's sinful touch?
Nathaniel Bainbridge is used to hiding, whether it's concealing his struggles with reading or his forbidden desire for men. Under the thumb of his controlling father, the governor of Primrose Isle, he's sailing to the fledging colony, where he'll surrender to a respectable marriage for his family's financial gain. Then pirates strike and he's kidnapped for ransom by the Sea Hawk, a legendary villain of the New World.
Bitter and jaded, Hawk harbors futile dreams of leaving the sea for a quiet life, but men like him don't deserve peace. He has a score to settle with Nathaniel's father-the very man whose treachery forced him into piracy-and he's sure Nathaniel is just as contemptible.
Yet as days pass in close quarters, Nathaniel's feisty spirit and alluring innocence beguile and bewitch. Although Hawk knows he must keep his distance, the desire to teach Nathaniel the pleasure men can share grows uncontrollable. It's not as though Hawk would ever feel anything for him besides lust...
Nathaniel realizes the fearsome Sea Hawk's reputation is largely invented, and he sees the lonely man beneath the myth, willingly surrendering to his captor body and soul. As a pirate's prisoner, he is finally free to be his true self. The crew has been promised the ransom Nathaniel will bring, yet as danger mounts and the time nears to give him up, Hawk's biggest battle could be with his own heart.
This May-December gay romance from Keira Andrews features classic tropes including: a tough alpha pirate too afraid to love, a plucky virgin captive half his age, enemies to lovers, first-time sexual discovery, and of course a happy ending. 85,000 words.
About the Author
---
After writing for years yet never really finding the right inspiration, Keira discovered her voice in gay romance, which has become a passion. She writes contemporary, historical, paranormal, and fantasy fiction, and-although she loves delicious angst along the way-Keira firmly believes in happy endings. For as Oscar Wilde once said, "The good ended happily, and the bad unhappily. That is what fiction means." Learn more about Keira and her books at: keiraandrews.com