Operational Updates
Click HERE for the most updated hours, customer guidelines and updates to store policy.
The Hustler (Paperback)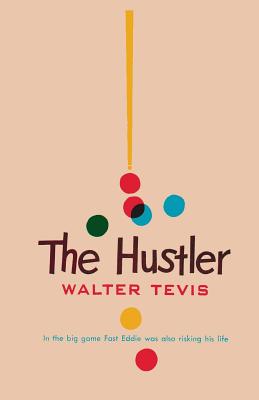 Description
---
This is the 1959 book "The Hustler" by Walter Tevis, that was made into a movie "The Hustler", a 1961 movie staring Jackie Gleason as Minnesota Fats and Paul Newman as "Fast Eddie Felson". In the movie, they are competing in a high stakes gambling game for money to determine who is the best player of the game of straight pool in the world. In the opening scene in the movie, Fast Eddie Felson and his friend Charlie are traveling across the country. They stop in a small town at a local pool hall. They start playing pool against each other while pretending to be drunk. Fast Eddie Felson shows himself to be an average pool player, but not as good as Charlie, and misses many easy shots. Finally, the other players in the pool hall which is also a bar start to take an interest in the big money game they are betting on. A situation arises where Fast Eddie Felson sets up a difficult shot. He bets Charlie he can make this shot. Charlie says it is impossible, that he cannot do it, but he does not have enough money to bet. Then, another spectator in the pool hall says he will take that bet and bet that Fast Eddie Felson cannot make the shot. They both put their money on the table. Amazingly, Fast Eddie Felson makes the shot, picks up the money and quickly leaves the pool hall, followed by Charlie. They get in their car and speed away.