Five Nights at Freddy's. La guía definitiva / Five Nights at Freddy's. The Ultimate Guide (Paperback)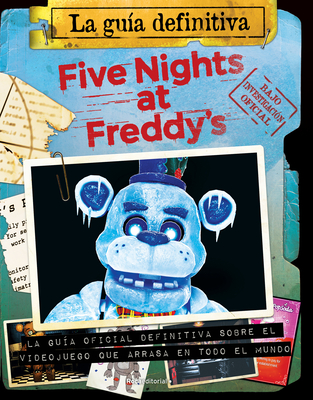 $22.95

NOT ON OUR SHELVES- available for order, usually ships in 1-5 days
Description
---
La guía definitiva sobre el universo de Five Nights at Freddy's, el videojuego de terror que arrasa en el mundo entero.
 
Una guía única, repleta de teorías, conocimientos y sorpresas sobre el universo Five Nights at Freddy's. ¡Descubre todos los secretos sobre el videojuego y los libros de la serie! Los fans hambrientos de nuevas historias sobre Five Nights at Freddy's podrán hincar el diente en esta enorme guía repleta de mitología, jugabilidad y secretos, y que desentraña los más retorcidos misterios que se esconden detrás de las caras sonrientes de los animatrónicos. Analizando cada juego, los jugadores descubrirán las rutas de los animatrónicos, aprenderán cómo funcionan los elementos cronometrados de los juegos y descubrirán cómo activar eventos únicos. Las secciones especiales destacan los temas más comentados por los fans de FNAF, como los finales alternativos en Help Wanted y Curse of Dreadbear, la nueva tecnología introducida en Fazbear Frights, o incluso la manera en que los easter eggs, las pantallas secretas y el contenido oculto pueden dar respuestas a algunas de las preguntas más inquietantes del universo FNAF.

ENGLISH DESCRIPTION
 
Fans won't want to miss this ultimate guide to Five Nights at Freddy's –bursting with theories, lore, and insights from the games, books, and more!

This all-encompassing guidebook concentrates material from The Freddy Files (Updated Edition) and adds over 100 pages of new content exploring Help Wanted, Curse of Dreadbear, Fazbear Frights, the novel trilogy, and more!
 
Fans hungry for fresh Five Nights at Freddy's lore can sink their teeth into this massive guidebook packed with mythology, gameplay, and secrets to help unwind the twisted mysteries lurking behind the smiling face of Fazbear Entertainment. Delving into each game, players can map the animatronics' paths, learn how timed elements of the games work, and discover how to trigger unique events. Special sections throughout highlight FNAF fans' most talked-about topics, from the alternate endings in Help Wanted and Curse of Dreadbear, to the new technology introduced in Fazbear Frights, to the ways that Easter eggs, rare screens, and hidden content can shed light on some of the more elusive questions in the FNAF universe. A comprehensive animatronics inventory and reproduced content from the Fazbear Entertainment Archives complete this compendium, helping fans bring their theories straight to the source. All the evidence, along with every detail of the games, books, and more, is laid out for fans to explore in this one-of-a-kind guide to the warped world of Five Nights at Freddy's.
About the Author
---
Scott Cawthon es el creador del video juego súper ventas Five Nights at Freddy's. Además de su fascinación por el diseño de juegos, es un gran contador de historias. Graduado en The Art Institute of Houston, vive en Texas con su esposa y sus cuatro hijos.