Operational Updates
Click HERE for the most updated hours, customer guidelines and updates to store policy.
Joyas del sol / Jewels of the Sun (Trilogia Irlandesa/ Irish Jewels Trilogy) (Paperback)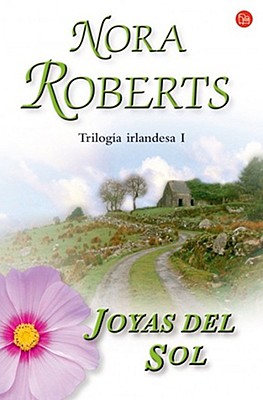 Description
---
Joyas del sol es la primera historia de amor entre Jude Murray y Aidan Gallagher de la Trilogía irlandesa de Nora Roberts.
Después de varias decepciones, Jude huye de América a Irlanda, la tierra de sus antepasados, para refugiarse en Faerie Hill Cottage, una cabaña de su familia. Se sumerge en el estudio del folklore irlandés y descubre una esperanza para el futuro en la magia del pasado...


ENGLISH DESCRIPTIONThe new trilogy by Nora Roberts! Determined to reevaluate her life, Jude Murray flees the USA to take refuge in Faerie Hill Cottage, Ireland, immersing herself in the study of Irish Folklore and discovering a hope for the future in the magical past.
About the Author
---
Nora Roberts, la autora número 1 en ventas de The New York Times y «la escritora favorita de América», como la describió la revista The New Yorker, comentó en una ocasión: «Yo no escribo sobre Cenicientas que esperan sentadas a que venga a salvarlas su príncipe azul. Ellas se bastan y se sobran para salir adelante solas. El "príncipe" es como la paga extra, un complemento, algo más... pero no la única respuesta a sus problemas».

Más de cuatrocientos millones de ejemplares impresos de sus libros avalan la complicidad que Nora Roberts consigue establecer con mujeres de todo el mundo. El éxito de sus novelas es indudable, y quienes la leen una vez, repiten. Sabe hablar a las mujeres de hoy sobre sí mismas: sus lectoras son profesionales, fuertes e independientes, como los personajes que crea en sus libros, y sus historias llegan a un público femenino muy amplio porque son mucho más que novelas románticas.

Las cifras son fenomenales: Nora Roberts ha escrito más de 180 novelas que se publican en 34 países, se venden unas 27 novelas suyas cada minuto y 42 han debutado en la primera semana de ventas en el codiciado número 1 de The New York Times.