The Context of Scripture (3 Vols.): Canonical Compositions, Monumental Inscriptions and Archival Documents from the Biblical World (Paperback)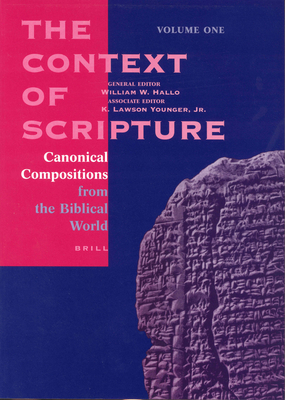 $371.00
Backordered or Out of Print
Description
---
The Context of Scripture illuminatingly presents the multi-faceted world of ancient writing that forms the colorful background to the literature of the Hebrew Bible. Designed as a thorough and durable reference work for all engaged in the study of the Bible and the ancient Near East, and involving 63 of the world's outstanding scholars in the field, it provides reliable access to a broad, balanced and representative collection of Ancient Near Eastern texts that have some bearing on the interpretation of the Bible. Translations of recently discovered texts are included, alongside new translations of better-known texts and in some cases the best existing translations of such texts.
The substantial three-volume work, with its specially designed page layout and large format, features full cross-referencing to comparable Bible passages, and new, up-to-date bibliographical annotations with judicious commentary. Its many distinct advantages over other collections will ensure the place of The Context of Scripture as a standard reference work for the 21st century.

The Context of Scripture is previously published in hardback by Brill (ISBN 90 04 09629 9, still available). Individual volumes are available separately in hardback only.
About the Author
---
William W. Hallo is the William M. Laffan Professor of Assyriology and Babylonian Literature and Curator of the Babylonian Collection at Yale University. He holds degrees from Harvard, Leiden, and Chicago. He is author or co-author of Seals and Seal Impressions (2001), The Ancient Near East: a History (1998, 1971), Origins (1997), The Book of the People (1991), Scripture in Context (4 vols. 1980-1991), Heritage: Civilization and the Jews (2 vols. 1984), The Tablets of Ebla (1984), Sumerian Archival Texts (1973), The Exaltation of Inanna (1968), and Early Mesopotamian Royal Titles (1957). K. Lawson Younger, Jr., Ph.D. (1988) at the University of Sheffield is Professor of Old Testament, Semitic Languages and Ancient Near Eastern History at Trinity International University -- Divinity School, Deerfield, Illinois. He is the author of Ancient Near Eastern Conquest Accounts: A Study of Ancient Near Eastern and Biblical History Writing (1990), co-editor of Mesopotamia and the Bible (2002), as well as numerous scholarly articles and reviews.